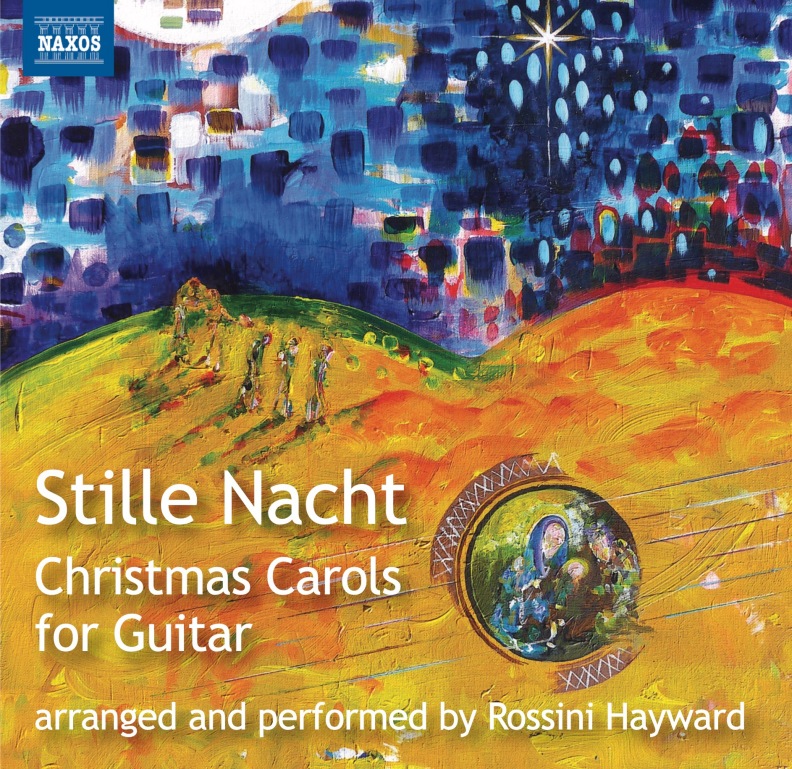 Stille Nacht: Christmas Carols for Guitar wurde 2020 von NAXOS veröffentlicht. Die CD besteht aus Haywards Arrangements von bekannten Weihnachtsliedern, welche mehrere Jahrhunderte und Kontinente überspannen. Diese schönen Werke respektieren die originalen Weihnachtslieder und bereichern sie zugleich mit neuen genialen Ideen. Sieben der Arrangements enthalten Overdubbing mit Gesang, Perkussion oder Gitarre von Hayward selbst, was neue Farben beschert. Dabei beweist Hayward stets, dass er "sich auf den Zauber und die Kraft des Einfachen versteht". (Classical Guitar)
Preis: 11,99 Euro + Versand ---------- hier bestellen
TRACK LIST
1. Ihr Kinderlein kommet / 2. El noi de la mare / 3. In dulci jubilo / 4. Coventry Carol / 5. Es ist ein Ros entsprungen / 6. The First Nowell / 7. Stille Nacht / 8. Les Anges dans nos campagnes / 9. I Saw Three Ships / 10. We Three Kings / 11. Forunderligt at sige / 12. Entre le bœuf et l'âne gris / 13. Jul, jul, strålande jul / 14. God Rest You Merry, Gentlemen / 15. Leise rieselt der Schnee / 16. Tu scendi dalle stelle / 17. Once in Royal David's City / 18. O Tannenbaum / 19. Christmas Bells
Playing Time 53:18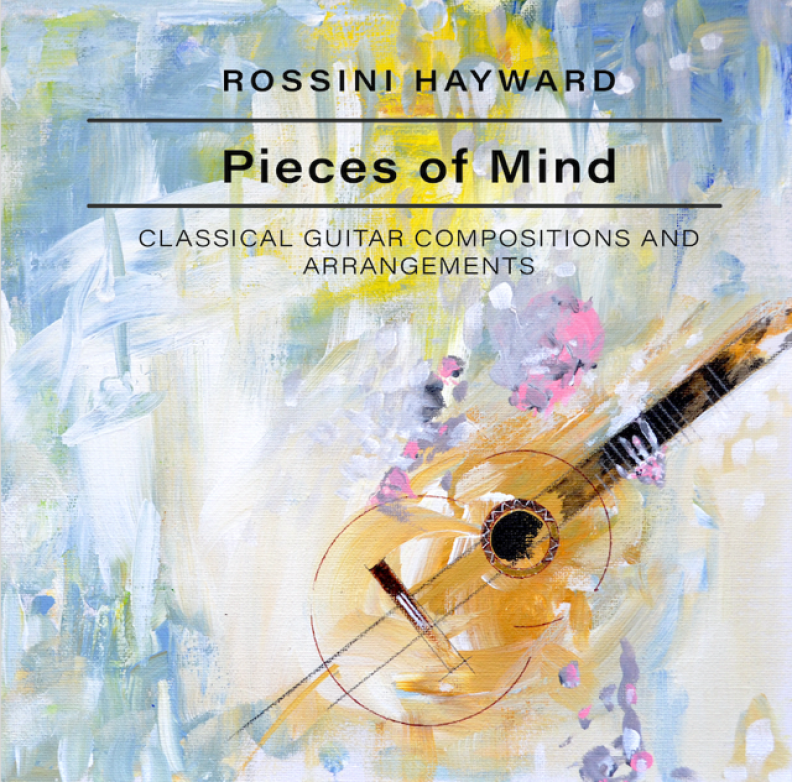 Pieces of Mind: Classical Guitar Compositions and Arrangements wurde April 2018 herausgebracht. Zu hören gibt es Kompositionen und Arrangements, die Hayward selbst geschrieben hat. Stilistisch umfasst die CD Musik von der Renaissance bis hin zu modernen Kompositionen. Um die Rezension in Classical Guitar Magazine zu lesen, bitte klicken Sie hier.
Preis: 11,99 Euro + Versand ---------- hier bestellen
TRACK LIST
1. "Raindrop" Prelude Op. 28 No. 1 - Frédéric Chopin / 2. Il bianco e dolce cigno - Jacques Arcadelt / 3. Hänschen klein- Traditional / 4. Schlaf, Kindlein schlaf - Traditional / 5. Variations on a Theme of Beethoven (Homage to Fernando Sor) - Rossini Hayward / 6. Innsbruck, ich muss dich lassen - Heinrich Isaac / 7. Der Mond ist aufgegangen - Johann Abraham Peter Schulz / 8. Tannhäuser Fantasy - Rossini Hayward / 9. O Haupt voll Blut und Wunden - Johann Sebastian Bach / 10. Through Twilight Woods - Rossini Hayward / 11. Londonderry Air (Danny Boy) - Traditional
Playing Time: 53:38
Stille Nacht Reviews
The Arts Desk 19.12.2020 - "More non-vocal seasonal fun from guitarist Rossini Hayward, his unfussy arrangements of an eclectic selection of carols enlivened with overdubbed vocals and percussive effects. The results are delightful. Finger taps and soft vocals give this "Coventry Carol" an irresistible swing, and "God Rest You Merry, Gentlemen" becomes a foot tapper. The rarities make this disc, however, with tunes by Nielsen, Gustaf Nordqvist, Eduard Ebel and Alphonsus Liguori. Hayward's own "Christmas Bells" is a crowd-pleasing closer, assorted friends and family members singing the three verses while an overdubbed guitar line mimics a typical English bell-ringing riff. Lovely stuff, and warmly recorded."
Pieces of Mind - Reviews
Classical Guitar Magazine 2018 - " Rossini Hayward was a new name to me when this album turned up in the post, but I became a fan on first listen. The English guitarist/composer explicitly states in the liner notes that in his compositions and arrangements on the disc, he was looking for and attempting to express beauty in different manifestations. And at that he succeeds admirably. But lest you think this is some gauzy, maudlin, easy-listening exercise designed to tug at your heartstrings, I can assure you it is not that at all.
Part of what makes this album so interesting is that Hayward is a skillful and unpretentious arranger with an ear to material that fits the guitar well. He's not out to dazzle us with impossible fingerings, though he is clearly a very skilled player. Rather, he understands the charm and power of simplicity, as in his arrangements of several old German lullabies and children's songs, a short piece by Renaissance composer Jacques Arcadelt, or his appropriately wistful reading of Londonderry Air/Danny Boy. His arrangements of Chopin's "Raindrop" Prelude, Op. 28 and Bach's O Haupt voll Blut und Wunden ("O, sacred head now wounded," from the oratorio St. Matthew Passion) both evoke beauty in different, more profound ways, perhaps. Hayward is credited with three originals, two of them his own extrapolations on existing themes: His variations on Beethoven's "Ode to Joy" are delightful and imaginative, the conceit being that they are presented as an homage to Beethoven contemporary Fernando Sor (particularly evident in the final variation); and Hayward's Tannhäuser Fantasy artfully stitches together themes from the mid-19th century opera by Richard Wagner. Hayward's Through Twilight Woods is completely in keeping with other pieces on the album, with moments of evocative simplicity—gentle melodies, harmonics that sound like church bells—but also more modern harmonies. The album was recorded by the great English engineer John Taylor in February of 2018."
Soundboard Magazine Volume 44 No. 3 September 2018 - " The musically named Mr. Rossini Hayward hails from London and now lives in Germany. He provides an elegant program of pieces, many never played on guitar before, and most sounding quite at home in his refined playing. Hayward plays transcriptions ranging from a Chopin Prelude through German folk songs (one of which will be infamous as the beginner piano piece "Lightly Row"!) through music by Isaac and Bach to "Londonderry Air." They are extraordinarily pretty. He includes several original works, one an homage to the Sor Mozart Variations, but this time using the famous theme from the last movement of Beethoven's Symphony No. 9. Undoubtedly anachronistic compositionally but nicely done. And where else but here can you hear themes from Wagner's Tannhäuser done up nicely for guitar! Beautifully recorded by John Taylor."